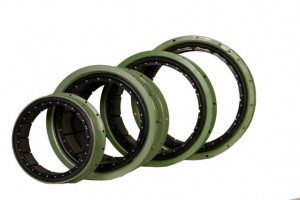 Grab. Spin. Decouple. Repeat. At one level, clutches really are that simple. But pneumatic clutches are just one example of what a few innovative twists can do to complicate (and improve) the process.
So let's start with the basics:
All clutches—whether K&L's mechanical clutches, pneumatic clutches, or hydraulic clutches—work essentially the same way, and provide the same larger function. They work to synchronize two rotating shafts (say a car's transmission and engine) that are spinning at different speeds. The clutch can connect the two shafts, locking them together to spin simultaneously, or decouple the shafts to spin again at different speeds (when you'd want to stop a car without turning off the engine).
All sorts of technical variations exist. But engaging a clutch (releasing the clutch pedal in a car, for example) almost always moves power from an engine to another part of the machine (like a car's transmission). Disengaging usually stops that power transfer without stopping the engine (thus avoiding an engine stall).
To get more specific, when the clutch is engaged in a vehicle, its clutch plate usually makes direct contact with something like a car's flywheel. To disengage, something like a release fork is pushed by a cable or a hydraulic piston. This pushes a throw-out bearing against the middle of the diaphragm spring, which pulls the press plate back away from the clutch disc. The clutch is then released.
Clutches allow cars to change gears, chainsaws to idle, drills to spin bits, and large machines to run at optimum power.
Pneumatics
The basic feature, of course, of all pneumatic machines is that such devices are powered by clean, compressed air. Pneumatic clutches are no different.
Where mechanical clutches does everything with moving, tangible parts, pneumatic brake clutches transfer power from one part of a machine to another using compressed air or other gases. Upon clutch disengagement, an air valve is opened and an air flow is initiated through a rotary inlet through the shaft, toward the pneumatic throw-out bearing, which opens the clutch. Re-engagement bleeds the air out of the system, a set of springs release, and the clutch reattaches to the flywheel. Then you're ready to go.
Results
Compressed air is usually clean and easy to handle. In fact, the simplicity of pneumatic clutches leads to much more accurate torque control (with generally less than 5 percent variance) compared to mechanical clutches (often around ten percent).
When combined with pneumatic brakes, the brake/clutch packages provide reduced breaking distances, and are often use in larger, heavier vehicles like buses.
Contact K&L to learn more about pneumatic clutches. We're proud to provide service and provide quality parts for pneumatic clutches from Oil States.