Vicon torque converter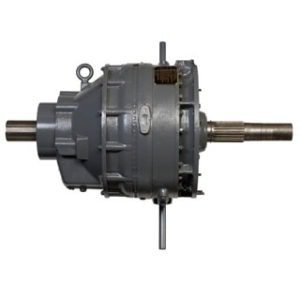 K & L Clutch & Transmission stocks a full line of Manitowoc VICON Converters for sale or exchange.
Manitowoc
Quality Torque Converters for over 100 years
The Manitowoc Company upholds the core values of integrity, commitment to stakeholders, and passion for excellence. These standards directly translate to their production of their Manitowoc torque converters and other high-quality products.
WHAT IS A TORQUE CONVERTER?
A torque converter is generally a type of hydrodynamic fluid coupling that is used to transfer rotating power from a prime mover, such as an internal combustion engine or electric motor, to a rotating driven load.
The key characteristic of a torque converter is its ability to multiply torque when there is a substantial difference between input and output rotational speed. Some of these devices are also equipped with a temporary locking mechanism which rigidly binds the engine to the transmission when their speeds are nearly equal, to avoid slippage and a resulting loss of efficiency.
Manitowoc Torque Converters are Dependable
The Manitowoc Company began in 1902 as a small shipbuilding and ship repair company in Manitowoc Wisconsin, and so they have more than 100 years of experience with industrial machines and products. Manitowoc torque converters are industrial strength components that are produced by a company that has years of experience producing and servicing heavy-duty, durable equipment. We are proud to carry these and other Manitowoc parts and products.
Manitowoc Torque Converters  —  VICON CONVERTERS
The Manitowoc Company produces cranes as well as their Manitowoc torque converters, so they fully understand the construction and service of industrial components. Manitowoc torque converters provide great torque multiplication and take advantage of prime mover power over a wider operating range. Customers can be confident in Manitowoc's reputation and experience, knowing that the Manitowoc torque converters they manufacture are high quality. Manitowoc torque converters are strong and dependable, able to fulfill the requirements they were designed to meet.
MANITOWOC TORQUE CONVERTER
The following is a partial list of Manitowoc Torque Converters that K & L Clutch provides parts for, repairs and installs:
ITEM DESCRIPTION
61040 CONVERTER
61041 CONVERTER
96529 CONVERTER
97245 CONVERTER
98055 CONVERTER
98056 CONVERTER
65920 CONVERTER
65921 CONVERTER
64235 CONVERTER
64236 CONVERTER
65932 CONVERTER
65944 CONVERTER
65943 CONVERTER
65941 CONVERTER
65106 CONVERTER
65176 CONVERTER
Plus carrying related Manitowoc Parts:
ITEM DESCRIPTION
180256-2  SHAFT, INPUT IF11576TC
180257-2  SHAFT, INPUT IF10027TC
18085KL   FAIRLEAD ROLLER FLANGE
181176-5  SHAFT, INPUT CIF10033TC1
181177-2  SHAFT, INPUT CIF11570TC0
183994-2  SHAFT, INPUT IF10027TC
183995-2  SHAFT, INPUT IF10027TC
183996-2  SHAFT, INPUT -DOUBLE SPLINE
184026-2  SHAFT, INPUT IF10027TC
184044-2  SHAFT, INPUT IF11576TC
184066-2  SHAFT- CIF INPUT
184273-2  SHAFT, INPUT IF10027TC
24455-0  YOKE
24455-6  YOKE ASSY – 10,000
24693-9  SWASH PLATE 11500
24745-2  BUSHING-10,000 SWASH PLATE
24746-2  SUPPORT RING, SWASH PLATE
24758-4  SWASH PLATE 10000
32441-2  HOUSING, YOKE – 11,500
32575-2  SHAFT, INPUT IF10027TC
32576-2  SHAFT, INPUT IF10027TC
40701  TRACK PAD 4600
90515K1  FAIRLEAD SHEAVE ASSY
Please feel free to contact us to order a Manitowoc torque converter or to request more information.
Order Now