Twin Disc – best Parts on the market.
"When requiring industrial or transmission products for heavy-duty applications, Twin Disc parts are the best available."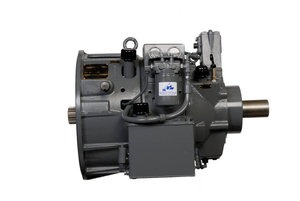 Save Money With Rebuilt Or New, High-Quality Twin Disc Parts
Anyone involved with heavy machinery is going to know the name Twin Disc. Whether it be the brand new Twin Disc parts of today or rebuilt Twin Disc converters; any operator can rest assured that there is quality and history operating within their machine. Innovation and production of quality parts have been a part of their company for nearly a century.
Twin Disc Quality Parts and Repair
Anything that works as hard as your heavy machinery is bound to break down (or, at least require maintenance) eventually. You can avoid costly repairs with preventative maintenance services on your machinery. A breakdown is a costly problem that can leave a tremendous impact on the bottom line and productivity. On-site or off-site repairs by skilled, licensed professionals can help get your machinery back in operation in a timely manner.
Twin Disc's presence in the industry for so long guarantees that there are skilled professionals, such as the team of technicians at K&L Clutch and Transmission who have a lot of experience with Twin Disc repair, installation, and maintenance. There's no reason to settle with an inexperienced service provider when there are so many other knowledgeable mechanics out there. Can your business or productivity afford to have a novice working on your machinery? Probably not.
The Benefits of Twin Disc Rebuilds
The transmission is always worked hard in any heavy machine. It needs maintenance otherwise, it's bound to fail. A rebuild can return a Twin Disc transmission into the stalwart work horse it is. We demand a lot from our machines and often wind up blowing out our transmission. You may be able to save a significant amount of money by having it rebuilt instead of buying a new one altogether. The general condition of the transmission should be inspected by an experienced mechanic who can suggest the most cost effective path.
Twin Disc Parts like a torque converter can significantly increase engine efficiency, reduce stalling, and improve productivity. Brand new or rebuilt Twin Disc converters may provide the extra edge needed for a heavy machine's job without having to buy a new piece of equipment. Work conditions can change and you may find yourself needing more power without a lot of wiggle room in the budget. Rebuilt parts may very well be the answer.
Already sold?
Contact Usfor more information, or to order a part or service.
---
A Choice For Quality
Twin Disc makes a lot of great parts- ranging from power take offs and electronic controls to gearboxes and air clutches. Their products are a great choice whether you are looking to install new parts, purchase rebuilt ones, or have your own rebuilt. Contact K&L Clutch & Transmission and let's discuss what our team with over 150 years of combined experience with Twin Disc parts can do for you!
Twin Disc offers an extensive selection of industrial and transmission parts that can handle whatever challenging demands are required with precision, power, and easy control. When time is money, Twin Disc parts and systems keep machines up and running smoothly and efficiently. Whether you're using Twin Disc PTOs, Twin Disc torque converters, or a Twin Disc clutch, you can rest easy knowing that the product lives up to and beyond the standards and can handle whatever load or strain is required. Twin Disc is at the forefront of their industry and realizes the need for agility, speed, and reliability and therefore, make it a priority to manufacture products that meet those criteria. Twin Disc parts consistently provide the power needed, in every situation and with any task.
Twin Disc PTOs are an extensive line of mechanical and hydraulic power take offs. Twin Disc power take offs also include a new line of remotely actuated mechanical PTOs which offer smoother, safer operation and flexibility with configuration. K&L offers customers a full range of Twin Disc Power Take Offs and can provide customers with full service as well as the Twin Disc PTOs and other products.
Twin Disc converters are the answer to diesel installations from 30 through 3500 horsepower. K&L provides a selection of Twin Disc torque converters in a range of size, type, capacity, input and output, and also includes both rotating and stationary housing type Twin Disc converters. Twin disc converters are notes for increasing engine efficiency and productivity and decreasing lugging and stalling. Operators no longer have to worry about clutching or shifting and torque is transferred through the fluid, making mechanical connection unnecessary and increasing precision and control.
K&L offers Twin Disc clutches in a selection of sizes up to 1067 millimeters. Twin Disc clutches offer operators dependable performance at minimum operating costs. Twin Disc clutches are perfect for heavy-duty tasks and can handle maximum power, supporting industrial equipment like rock crushers, drilling rigs, tractor winches and more. Feel free to contact K&L or check out our line of Twin Disc clutches and other Twin Disc parts to find out what will work best to keep your projects up and running.