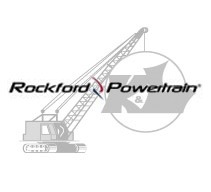 Everyone in the industrial engine and commercial and industrial machine business will be familiar with the legendary name of Rockford and their highest of quality parts. When you are in the market for these kinds of Rockford replacement parts, the only name you need to remember is K&L Clutch. We carry a full line of Rockford parts and parts for Rockford related elements in your engines and machines. Whatever your needs are for these parts, we are your one-stop shop to source, replace, repair, and deliver them to your office or business.
About Rockford Brand Parts
Rockford brand and manufactured parts are now legendary in the heavy vehicles, machinery engine, and general machinery businesses. Though the original Rockford company is no longer in business, the good news for those in need of Rockford replacement parts is that Twin Disc produces the Rockford Power Take Offs as a continuation of the original Rockford brand. These Twin Disc – Rockford branded parts offer the best in dependability and superior design that you have come to expect over many years of service. At K&L Clutch, we are very proud to represent, offer, install, and repair the Twin Disc – Rockford PTO's.
WHAT IS A POWER TAKE-OFF?
Power Takeoffs, or PTO's, is a phrase that refer to the means of drawing power out of a working power source. This could include an engine that is running from which you can source and deliver power to independently operating machines and various instruments and attachments.
These power takeoffs can be installed in engines of various types and sizes. They are most commonly found mounted even somewhat permanently on marine engines and industrial application engines. In these applications with vehicle, boat, or machinery engines, the applications commonly employ a sprocket, sheave, or drive shaft to transfer power over to a secondary accessory or tool.
The Rockford Brand Parts We Carry
We proudly carry a wide range of Rockford brand parts. In the department of power takeoffs, we represent and deliver three particular types of models to our customers:
• Rockford Spread Bearing Power Takeoffs – these PTO's are specially made to work with bigger horsepower, heavier duty tasks and applications, and high-side loads, as commonly seen with rock crushing equipment and trash recycling equipment.
• Rockford Small Engine Power Takeoffs – PTO's specifically created to work in diesel and gas powered engines. They have shaft outputs that must have disconnect clutches to work properly.
• Rockford Spring-Loaded Power Takeoffs – Utilize a clutch that is spring loaded instead of an over center model. With the clutches that are spring loaded, these compensate for typical wear and tear. This lowers the costs of maintenance for applications and uses that typically have a great number of clutch engagements over time.
These Twin Disc – parts for Rockford applications, especially Rockford Power takeoffs and clutches, turn out to be fantastic selections for any kind of application or need that you may have. Our company is extremely proud to be able to provide them to you when your applications call for them.
Who We Are and What We Represent at K&L Clutch Company
Our company K&L Clutch provides and delivers high quality parts, as well as offering repair services, for industrial and heavy machinery. We specialize in solving clutch problems and transmission malfunctions. As such we are proud to offer:
A big inventory of products that we stock directly in our shop. While other competitors are ordering and then shipping, we typically ship directly from our floor the same day or next day at latest.
An official distribution point for Rockford parts as a direct representative. There is no middleman involved between Twin Disc, us as distributors, and your company or shop.
International service in the field. There is no need to get your machinery and parts to our shop when our international service providers can come to your place of business or shop directly.
World class turnaround time for parts, including repairs and distribution of new and used parts (in many cases we source, repair, and ship out our parts and products the same day they are ordered).
A customer base that is global in both nature and reach.
Machining and manufacturing abilities on our premises – we manufacture difficult to obtain parts or rare parts directly in our shop on site and then ship them directly to you.
First class customer service to all of our existing and prospective clients.
In Conclusion
K&L Clutch is proud to be a recognized leader in the industry for both providing and repairing replacement parts for Rockford components. There is no reason to replace your industrial and commercial engines and machines when the internal Rockford parts finally fail. Be sure that no matter how good they are, these famous brand parts from Rockford will eventually need to be replaced. When that time comes, contact an official representative and distributor of Twin Disc – replacement parts from Rockford. Call us today to find out all of the many reasons why you should be working with us for your next parts replacement or repair needs!