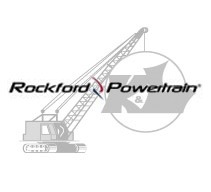 Rockford brand parts are a tradition in the industrial machine world, and Twin Disc is proud to continue that tradition by manufacturing the original Rockford Clutch and PTO. These parts provide heavy-duty strength, and the PTO features an over-center system for maximum performance. The Rockford PTO will not slip or fault in any way as it smoothly transfers power away from the engine. These components are ideal for industrial applications like rock crushers, agricultural equipment, and essentially any large scale machine. K&L Clutch recognizes the long-standing quality of Rockford components, and we proudly offer a full selection of Rockford parts. We will also install, repair, and otherwise service any Rockford system. Let K&L Clutch handle all your Rockford transmission service and repair needs.
Legendary Rockford Quality
The Rockford name has been around longer than many other companies in the current marketplace, and their experience with manufacturing premium transmission components has made them an icon of quality. Twin Disc continues to make Rockford components with the same level of precision, so users who trust these durable products can continue to take advantage of their impressive versatility and performance. Below is a brief list of the Rockford PTOs available through K&L Clutch.
Spread Bearing PTOs – These are the workhorses of the Rockford line. They are designed for use in high-hp, large volume applications, like heavy-duty construction equipment.
Spring-Loaded PTOs – These clutches opt for a spring-loaded system as opposed to the over-center variety of the standard PTO. These are ideal for high frequency applications that don't create excess strain.
Small Engine PTOs – These systems are meant for standard vehicle engines that must have disconnect clutches.
Rockford PTOs can satisfy the requirements for any application, and K&L understands the value of keeping these efficient components working at their optimal rate. All machines require maintenance to continue functioning at the highest possible level, and preventative maintenance can greatly reduce overall costs.
The Benefits of Maintenance
It's no surprise that machines need upkeep, especially large-scale industrial equipment that constantly undergoes rigorous strain. Rockford parts are some of the best on the market, but even the best can only work if it's in top condition. K&L understands the importance of preventing delays in industrial projects, since those delays can be prohibitively expensive. Regularly scheduled maintenance is the best way to prevent those situations before they present themselves. K&L is more than capable of handling any Rockford transmission repair you may need.
Contact us here if you have any further questions about the Rockford transmission services or components we provide. Our dedicated staff will be more than happy to provide you with the support you need, and they can assist in scheduling a consultation.