Air Clutches from Oil States
K&L Clutch proudly carries pneumatic or air clutches from the always dependable Oil States Industries brand, which includes their line of ELASTA-FLEX clutches and other quality pneumatic clutches.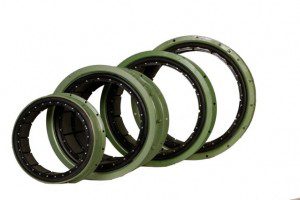 Oil States Industries is a company that has combined sixty years of experience in industrial manufacturing with a firm dedication to quality. Any customer that decides to purchase an Oil States air clutch knows that he can rely completely on the component since it carries the Oil States name. K&L is aware of this companies excellence and that is why we offer their line of pneumatic clutches, which includes their innovative and exclusive ELASTA-FLEX clutches.
Why Choose Oil States Air Clutches ?
First of all, what makes pneumatic clutches more effective than mechanical clutches? Mechanical clutches possess torque limiters that fluctuate around 10%, where pneumatic clutches limit torque variance to lower than 5%. Because of the difference between torque limiters, pneumatic clutches can provide better speed and flexibility, even in larger machines, than mechanical clutches. What sets Oil States apart from their competitors is their ability to comprehend the needs of their market and react by improving their manufactured components, exceeding industry standards. This innovative approach has allowed Oil States to produce their ELASTA-FLEX clutch, as well as other air clutches through the years, and K&L is first in line to show our vote of confidence by offering the Oil States clutch line to customers.
Oil States Clutches Offered by K&L
K&L Clutch proudly provides a full lineup of Oil States clutches to our customers. The full list of pneumatic clutches is extensive, but here is a selection of the components we carry:
10A300-11AA  ELEMENT ASSY SF,SD, W/1 SC,HIC
16VC1000D1  ELEM ASSY W/1 QRV
20A500-21BE  SPLIT ELEM ASSY DF,SD,W/2 S/C
24A500-21A1  ELEM ASSY DF,SD,W/1 S/C
28VC650H1  ELEM ASSY 1 INLET,NO S/C
30A525-21A1  ELEM ASSY DF,SD,W/1 S/C
46VC1200GQ-1  ELEM ASSY W/4 QRV EXT S/P
Didn't see the item you were looking for? Check out our Oil States pneumatic clutches page for more products, or contact K&L and we'll help you the air clutch you desire. We also offer installation and service assistance, as well as providing our clients with a 24-hour field service repair crew.