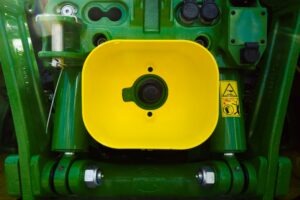 A power take-off is a gadget that transfers mechanical energy to another piece of equipment, allowing machines to function without needing an additional engine. Power take-offs are utilized in several applications but are commonly used in the agricultural and industrial sectors. From water pumps to farming tractors, a reliable power take-off kit can be installed in a wide range of equipment, allowing for improved performance and enhanced energy conservation.
How Does a Power Take-off Work
Units are categorized based on their mounting type, which are:
Side/bottom mount

Split shaft 

Top-mount

Rear mount

Front mount

Flywheel
So, how does a power take-off work? 
The answer depends mainly on their setup and application. Generally, however, PTOs convert the energy from the engine to power the superstructure's auxiliary units. For example, they are necessary to keep the mixer trucks' drums in constant rotation to prevent the cement from setting. Without PTOs, the engine's power supply would be insufficient.
How To Select The Right PTO for Your Machinery
Choosing the proper power takeoff unit is critical to ensure sufficient energy is supplied to the auxiliary equipment without limiting the prime mover's function. Here are important considerations for power take-off selection:
Space allocation

Application usage

Type of operation

Driven component's speed, torque, and horsepower requirements

Mounting face dimensions
Below, we explore the commonly used power take-offs in most industries.
If you are searching for a reliable PTO drive, the North American Clutch & Driveline (NACD) brand's selection is one of the best in the market. Founded in the early 1970s, NACD emerged as the leading manufacturer of powertrain and clutch components. Their power take-off units provide smooth performance and outstanding durability and are often used for vacuums, mixers, conveyors, blowers, wood chippers, and irrigation pumps. NACD PTO units are entirely interchangeable with Rockford power take-off kits.
Twin Disc Rockford PTOs are a continuation of the original Rockford Power Take-off line but with an improved design. These PTOs are suitable for all internal engines and can provide power to auxiliary mechanisms or separate machines. The components are designed to keep up with today's high-horsepower, high-speed industrial engines. Each PTO drive is made with solid plates that can handle the stress of fast-moving parts while having enough cooling area to withstand heat.
Twin Disc is another notable producer of heavy machinery gear. Their power takeoff unit is famous for its superior design, reliability, and performance under all conditions. Twin Discs PTOs are suited for all industrial engines and were specially made for high inertia applications. Each power take-off kit features solid friction plates to effectively handle the stress of higher engine speeds and oil-lubricated tapered roller bearings for extended lubrication intervals.
WPT Power is a global manufacturer and distributor of high-quality power transmission products. Their PTOs are often used in heavy-duty industrial applications to transfer power from an operating power source to an attachment while preserving engine life. All units include a sealed pilot bearing and are completely interchangeable with existing kits, no matter the brand.
Safety Handling Tips
Without training on proper handling, PTOs can be life-threatening. They can reach speeds of up to 16 to 19 rotations every second, which is a hazardous operating speed that can rip off limbs or even take lives. Fortunately, there are guidelines in place to prevent devastating accidents from happening. 
Keep PTO guards and shields in place, even when the machine is idle.

Repair or replace damaged guards as soon as possible. 

Stay away from unshielded moving parts.

Wear snug-fitting clothing with no loose ends that the device can catch.

Keep hair under a cap.

Always disengage all power before performing maintenance or repair work.
Choose the Proper Components for Enhanced Mechanical Performance
Power take-off units help supply power to the places where it is needed the most, allowing you to maintain a successful operation. No matter your requirements, K&L Clutch & Transmission has every part you need. 
For nearly 30 years, we have been one of the country's leading suppliers of quality mechanical components. What makes us different, however, is our commitment to providing the best service to our clients 24/7. Aside from offering power take-off kits from the industry's most notable brands, we also do repair and installation work for all the parts we sell. 
Place an order today!