industrial strength power transmission CLUTCH parts & brakes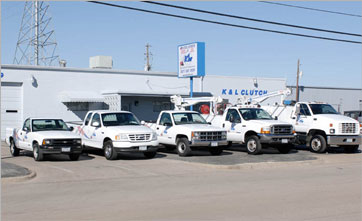 K&L Clutch & Transmission supplies and services industrial strength power transmission clutch parts for heavy machinery.
Based in Texas, but serving an international clientele, K&L Clutch & Transmission provides the highest quality of industrial heavy machinery products and brands.
We can fulfill all your manufacturing, installation and repair needs for heavy equipment, including:
Cranes
Draglines
Drilling Rigs
Mud Pumps
Rock Crushers
Tub Grinders
Dredges
Stationary and Mobile Power Units
Marine Units
Numerous Other Industrial Applications
And more!
OUR BRANDS
Our respected industrial equipment brands that K&L Clutch & Transmission offers parts, units and repair services for, are:
K&L Clutch & Transmission also manufactures and remanufactures torque converters for crane, dragline, and drilling rig applications, while supplying industrial transmission clutches for rock crushers, wood chippers, irrigation units and most other industrial applications. Learn More About Us →
Our goal is getting you up and running as quickly and efficiently as possible.
INDUSTRIES WE SERVE:
---
The clutch is an essential mechanical device that acts as a link in systems that require the selective transmission of rotational motion from one component to another. This type of mechanism is most commonly found in motor vehicles where they act as the linkage between the transmission and the... Read More →