Torque Converters from TWIN DISC
K&L carries a wide selection of Heavy machinery products, and we're proud to offer a range of products manufactured by Twin Disc. Twin Disc is a leader in the hydraulic torque converter product manufacturing industry and K&L Clutch & Transmission offers a complete line of Twin Disc torque converters.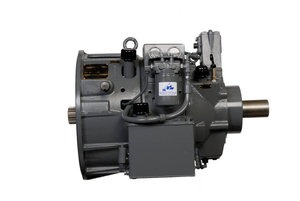 WHAT IS A TORQUE CONVERTER?
A torque converter is generally a type of hydrodynamic fluid coupling that is used to transfer rotating power from a prime mover, such as an internal combustion engine or electric motor, to a rotating driven load.
The key characteristic of a torque converter is its ability to multiply torque when there is a substantial difference between input and output rotational speed. Some of these devices are also equipped with a temporary locking mechanism which rigidly binds the engine to the transmission when their speeds are nearly equal, to avoid slippage and a resulting loss of efficiency.
Why Use Twin Disc Torque Converters?
Industrial equipment needs to complete tasks quickly and efficiently and whenever a part isn't up to standard then the risk and inevitable breakdown slows down productivity and misses deadlines. Because Twin Disc is a dependable brand in industrial equipment and manufactures dependable, high-quality products, a customer who utilizes a Twin Disc Torque Converter can rest assured that the part will meet and exceed expectations.
Complete Line of Twin Disc Torque Converters
Twin Disc torque converters are offered in a complete line, with both stationary and rotating housing types and three-stage hydraulic torque converters. Since Twin Disc torque converters are produced within a comprehensive range that includes size, capacities, and categories, industrial and commercial companies can find a torque converter that exactly suits their needs and will dependably complete the tasks required.
Twin Disc Torque Converters Save Time and Energy
Twin Disc torque converters decrease engine drag and stalling, allowing the engine to run efficiently and productively on whatever task is required. Industrial engines can function at highest capacity, at the most effective speed levels. Heavier loads won't dampen the power, Twin Disc torque converters are capable of operating excellently under heavy demands. Twin Disc torque converters enable users to complete tasks quickly and easily by enabling a higher level of control and accuracy.
TWIN DISC TORQUE CONVERTER
The following is a partial list of Twin Disc Torque Converters that K & L Clutch provides parts for, repairs and installs:
17.5HUC
6-S-1513-1-1
6-CO-1504-1
6-CO-1512-1
CF10032TC1
CF10033TC1
CF10049TC1
CF10059TC1
CF11538TC0
CF11538TC1
CF11553TC1
CF11570TC1
CF13803C30
CIF11570TC0
CIF11570TC1
CO10049TC1
CO10058TC1
CO10066TC1
CO11565TC0
CO11571TC1
F10017TC1
F11524TC0
F11524TC1
F11561TC0
IF10027TC
IF11532TC
IF11576TC
Please feel free to contact us to order a Twin Disc torque converter or to request more information on the industrial components we offer.
Order Now