Power Grip and Power Grip PO Clutches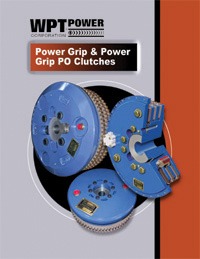 The Power Grip Clutch is designed to accommodate in-line mounting for heavy duty power transmission. Used in conjunction with either a quick change or standard driving adapter, the Power Grip Clutch is useful as a coupling clutch for shaft to shaft applications.
Power Grip Clutches
Split friction discs and air tubes are available to assist with maintenance.
Power Grip High-Speed Clutches
Power Grip High-Speed Clutches are designed to withstand severe applications mounted to internal combustion engines. The drive rings will fit standard SAE industrial flywheels. Heavy duty laminated gear teeth friction discs are designed to withstand heavy shock loads and torsional vibrations.
If you have any questions regarding WPT – or any of our products, please feel free to contact us to order a product or for more information!
Order Now