Some of the toughest, most rugged jobs require products that are up to the task. WPT Power Corporation has those products.
Parts from WPT Power Corporation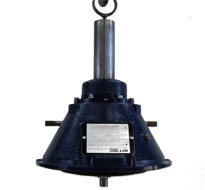 The WPT Power Corporation has been making machine parts for a wide range of industries since 1992. They entered a tough, well-established market with an even tougher product. Their WPT PTO's – or WPT Power Take Off – and WPT clutches have assisted those in many different fields.
Agriculture
Dynamometer
Energy
Forestry
Marine
Metal Forming
Mining
Off-Highway
Paper/Converting
WPT has two classes of Power Take Offs; Mechanical PTO's, and Pneumatic and Hydraulic PTO's. The Mechanical line is good for inline and sideload applications. They have sealed ball pilot bearings that remove lubrication problems and are 100% interchangeable with other PTO's and PTO parts. They are also compatible with any internal combustion engines with standard SAE flywheel housing dimensions. Pneumatic and Hydraulic PTO's come in two types. Type 1 works best with rock crushers, dredge pumps, oilfield mud pumps, waste shredders and other horsepower applications. Type 2 PTO's are typically used for engine driven pumps for irrigation, fire control, high-pressure spray as well as road planers, wood chippers and utility construction equipment.
WPT POWER GRIP CLUTCHES
WPT carries Power Grip High-Speed clutches and Low Inertia clutches. Power Grip clutches are engineered to serve in rough conditions faced by internal combustion engines. Low Inertia clutches help with metal forming, stamping equipment and general power transmission applications.
As the OEM supplier of choice for many major manufacturers around the world, WPT offers their products at a competitive price with outstanding lead-times. Their designers are able to meet any specialized requirements you may have. Their large network of distributors allows them to get you a solid, WPT PTO or WPT clutch in the quickest, most reliable way possible. And we're proud to be one of those trusted distributors.