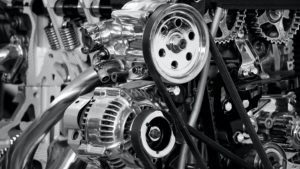 Your vehicle's engines are subjected to extreme heat during use. To prevent your engine from overheating and to mitigate wear and tear, heat exchanger parts like an engine oil cooler can redirect the heat by circulating hot oil. When using quality parts, you can see the improvement in your engine's reliability as your engine oil cooler is durable enough to take on the extreme heat your engine releases.
What Is a Heat Exchanger?
A heat exchanger is any type of engine part responsible for absorbing or redirecting heat away from the engine. By removing excessive heat from the engine, you can prevent the heat from permanently warping the other engine parts. An oil cooler is a type of heat exchanger commonly used for vehicles.
Without a heat exchanger, these parts can be prone to warping, further wear and tear than what's brought about by your average vehicle usage, or even leading your parts to no longer fit perfectly. When this happens, your engine parts may not perform at their best which can lead to engine damage or engine failure that can be costly to repair or replace.
Heat exchangers can come in different forms. For instance, some machines use heat exchanger tubes that have multiple tubes for heat exchangers inside a cylinder that can help manage heat. For vehicles and other mobile machines, air-cooled heat exchangers, or oil coolers, are more common as they use fans and air to circulate heat. There are also oil cooler kits and oil coolers that can be installed remotely on your radiator.
Choosing Your Oil Cooler and Heat Exchanger
Your engine's maximum temperature can vary depending on the type of vehicle you're driving, though some would say it should only reach a max of 220 °F. Any higher than that, and your metal engine parts could start to warp from the extreme temperatures and cause lasting damage that affects its performance and longevity.
Considering the effects extreme heat can have on your engine's lifespan, you should choose the engine oil cooler that's built for your needs. The ideal mobile oil cooler has to be:
Durable:

You'll want an oil cooler that can withstand regular vehicle use. Wear and tear is natural with any vehicle part, but a good investment is one that boasts performance ranges of 100 GPM oil flow and heat transfer of up to 350,000 BTU per hour.
Rugged:

Given the speeds, temperature, speed bumps, and other factors on the road, your oil cooler should be able to withstand the wear and tear of a vehicle while also being able to perform.
Flexible:

There are different types of vehicles, so you'll have to find the right size and model that can be safely and effectively installed into your engine.
Reliable:

Efficient oil coolers should balance out the flow rate, mass and pressure in the circulation. Issues like airflow can compromise how well your oil can be cooled, which could lead to inefficiently trapping the heat around your engine.
At K&L Clutch, we carry a comprehensive line of coolers and heat exchangers that are compatible with vehicles from various industries. Each Young transmission oil cooler and heat exchanger checks all the boxes and can provide efficient solutions for cooling your vehicle's engine.
Why Choose Young Oil Coolers and Heat Exchangers?
A Young transmission oil cooler provides simple heat-exchanging solutions to your vehicle's cooling needs. With eight available sizes, you can find one that perfectly fits your engine. It also offers the flexibility of choice, allowing you to install your oil cooler at either one-pass or two-pass oil flow for better efficiency and performance.
When installed correctly, your oil cooler can boast minimum oil pressure drop and low-flow air resistance. It effectively uses any external air flow to help cool down oil and help reduce the temperature in your engine.
Some of the benefits of choosing Young's products include:
Strong Core:

The Young MOC-8 model is built from highly durable and permanently bonded double-walled tubes that are designed for effective heat transfer while still being durable to withstand shocks from your vehicle. 
Turbulators:

There are turbulators inserted into each of the cooler's tubes, which can eliminate laminar flow inside. This makes heat transfer from your engine even more efficient.
Fluid Flow Without Sacrificing Pressure Drop:

Each Young heat exchange unit comes with inlet and outlet connections. Using these makes oil flow much more efficient while maintaining the minimum pressure drop for performance.
Oil Coolers and Heat Exchangers for Your Engine's Optimal Performance
Prevent the early wear and tear on your engine by replacing it with durable and reliable parts that can withstand your regular vehicle usage. The right engine oil cooler from Young is the right choice for commercial and industrial vehicles designed for maximum power and performance. 
If you want to know more about our oil coolers and heat exchangers or find a compatible model for your vehicle, get in touch with K&L Clutch. Call 817.267.0129 to contact us, or use this form.