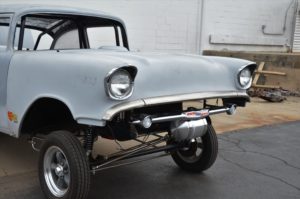 Car axles allow you to maximize your engine's power and easily control your vehicle's direction. K&L Clutch offers three brands of car axles that deliver the quality and durability that industrial drivers, heavy machinery operators and those with high-powered cars expect from their vehicles.
What Is an Axle?
Car axles are a shaft connecting two wheels together, ensuring their angle and positions are the same. When a driver maneuvers the steering wheel, the car axle adjusts so that the wheels are moving in the right direction relative to the direction the driver is steering. 
While that's happening, the engine's power applies force to the axle, which causes the car axles to spin and direct the wheels to roll forward. Since the engine's power travels to the wheels through car axles, it's the axles that carry the vehicle's weight. The axles are also responsible for absorbing the shock from the streets, so a good axle has the strength and durability to withstand these movements and power.
Dana Axles
Dana Incorporated has been a trailblazer in the automotive industry since 1904, producing a number of light, commercial and industrial vehicle parts for several sectors. You'll find Dana Axles on vehicles from big brands like Jeep, Ford, Isuzu, Honda and even industrial vehicle manufacturers like International Harvester.
Using genuine Dana Axles on compatible vehicles can optimize your vehicle. Swapping or upgrading your damaged or worn axle with one of Dana's axle models provides a number of features to up your performance.
Unparalleled Performance:

Compared to non-genuine parts, Dana's axle shafts undergo comprehensive design, engineering, testing and manufacturing to ensure heavy-duty performance on and off the road. 
No Need To Sacrifice Ground Clearance:

Some aftermarket axle parts that match Dana's level of durability mean reducing a vehicle's ground clearance, which can make it vulnerable to damage. Dana axles can provide a high level of durability without greatly affecting ground clearance.

 

Ideal For Light, Medium and Heavy-Duty Commercial Vehicles:

Dana provides a wide range of axle models that are built for durability, minimizing downtime and the need for maintenance. 
Carraro Axles
Carraro has been a major manufacturer of transmission systems for industrial vehicles in the agricultural and construction sector. Established in 1932 as a manufacturer of agricultural vehicles, Carraro's products today focus on efficiency and eco-compatibility "" including its axles.
Carraro designs, manufactures and markets its axles for efficient vehicle operations. Customers can expect the following advantages from Carraro's car axles:
Designed For Efficiency:

Carraro has various models depending on the equipment used. This includes axles designed for telehandlers, wheel loaders, excavators, backhoes, agricultural tractors and rollers. 
Plenty of Options:

Carraro's strongest advantage is its configurability, as its axles come in different models, brake configurations and dimensions. This wide range of options allows customers to find the right axle that meets the requirements of heavy-duty applications. 

Tested Under Severe Conditions:

Carraro subjects its parts to severe quality testing and high loads. These practices ensure their customers get durable products that are meant to withstand the demanding needs of agricultural and construction vehicles. 
AxleTech Axles
Operating since 1919 and having been acquired by Meritor in 2019, AxleTech is known for its heavy-duty commercial aftermarket parts. Its axles are more commonly used by commercial sectors like construction and aviation industries, as well as military vehicles. With over a thousand axle specifications, many commercial vehicle owners will find heavy-duty car axle options under AxleTech. 
AxleTech offers a number of car axle types, including:
Planetary axles

Planetary rigid axles

Planetary rigid tandem axles

Planetary steerable axles

Portal axles

Electric axles

Non-drive steerable axles

T/A series axles

Single reduction rigid tandem axles

Variable track axles
With AxleTech's durability record and performance in demanding industries, customers can expect the highest quality from AxleTech axles. Some of the advantages of choosing this brand include the following:
Wide Range of Axle Types:

AxleTech has over a thousand axle specifications and can cater to a number of vehicles like terminal tractors, lift trucks, fertilizer applicators, armored vehicles, snow plows, row crop applicators and more. 
Reduce Vehicle Downtime and Costs:

The manufacturer's axles are built for durability and power, withstanding more and reducing the need for frequent maintenance. 

OE and Aftermarket Replacements Are Available:

AxleTech offers complete axle assemblies for vehicles in need of replacements. 
Car Axles for Your High-Performance Vehicle
Axles play a large role in the performance and power of your vehicle. With the right car axle installed, you can make the most out of your vehicle's engine power and go the distance with vehicle parts that match the demands of your industry. 
If you want to know more about car axles and find compatible axles for your commercial or industrial vehicle, K&L Clutch can help. Call 817.267.0129 to contact us, or use this form.