At KL Clutch, we're proud to provide both VC-style and CB-style pneumatic clutches "" the sort rugged enough for peak, reliable performance out in the oilfields, and flexible enough to be provide pneumatic clutch solutions across a variety of other industrial applications using air clutches.
Both are constricting-type clutches featuring Oil State's ELASTA-FLEX drum clutch elements""a flexible, fabric-reinforced inflatable elastomeric tube that expands radially inward""designed for severe, demanding clutch applications. When the tube constricts, it pushes the friction shoes against an outer cylindrical drum surface, which makes it easy to accurately determine and control element torque capacity.
Let's take a look at the unique capabilities of each:
VC-type pneumatic clutches: Better heat dissipation. Higher torque capabilities. Increased longevity.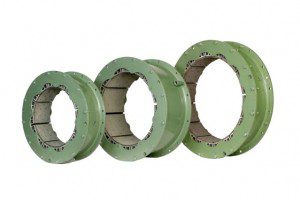 VC elements were principally designed for severe, high-torque, high-thermal capacity clutching in heavy machinery with high starting loads. In other words: toughness, toughness, toughness.
By design, torque gets transmitted via torque bars from the side plates to the friction shoes. They work well for a few reasons: A well-ventilated construction improves heat dissipation from the friction shoes and cooling airflow. And the clutches boast high torque ratings, which makes it easy to use smaller diameter units (better for lowering contact velocity on high-speed applications). Because of what's required of them, VC-style air clutches are in are in many ways considered to be the most trusty, tough styles of drum clutches.
A VC-style clutch might especially come in handy (compared to less efficient conventional clutches) if you've faced repeated clutch failures resulting from extensive slippage and high starting loads.
CB-type pneumatic clutches: torsional resilience and flexibility
CB-style air clutches, meanwhile, are most noted for their flexibility. Designed for power transmission in oilfield machinery, the CB elements work best in high-speed, medium-torque applications""especially those where high heat generation (as seen in VC applications) is less of a problem. CB torque also gets transmitted through a sort of flexible neoprene side wall and cord actuating tube, which lets minor, naturally occurring shaft misalignment happen without causing larger problems. The neoprene tube automatically tightens up when friction surfaces wear, providing constant compensation.
Out in the oilfield, the CB-types fit a more broad array of applications than VC types, including engine, slush pump, and PTO applications.
Contact our industrial clutch specialists to get a better idea of which pneumatic clutch suits your needs.