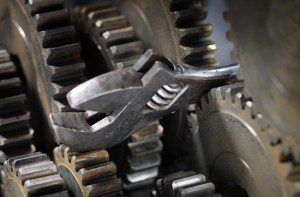 There are a huge number of different transmissions being put to use in a wide variety of simple and complex machinery. Each model uses different types of transmission designs to convert power and drive the engine. With each variety of system comes different abilities and, of course, their own set of unique problems. The most uncommon transmissions are those being put to use in heavy machinery such as hydrostatic transmissions, hydrodynamic systems, and electric transmissions. In each of these cases, the transmission system is essentially converting power from its source for transmission into various gears and components. This transmission mechanism differs accordingly. In virtually all cases, however, the clutch and transmission of a vehicle will be intricately related, controlling the transition between gears which are responsible for transferring power. The number of gears and precise machining necessary for a clutch and transmission to work together properly ends up becoming the source of a great many problems in the engine as a whole.
1. Common Torque Converter Problems
The torque converter can also be another area that causes problems. This system works closely with the gears as well. As the gears are used to to control the speed and drive of the engine, the torque conversion process is responsible for distributing this force to the other engine components. When the torque converter is unable to do its job, there is a severe loss of power despite the fact that the internal energy source may be working properly. In common transmissions such as those present on cars and trucks, the problem often occur in the gearbox. The gearbox essentially serves as the torque converter, controlling power based on the changing of gear ratios. These gears have a tendency to slip after they have worn down over time. The same kinds of problems can occur in large machinery, however, the difference in design can increase the life of the transmission as a whole.
2. Common Hydrostatic Transmission Problems
In a hydrostatic transmission, all power is transmitted by hydraulic components, eliminating the number of precision moving parts in the machine. These are generally installed on forklifts, excavators, tractors, and other heavy-duty equipment. These systems typically experience problems during extreme weather conditions that can affect the performance of fluids. They are also prone to problems between the drive shaft and the transmission itself.
3. Common Hydrodynamic System Problems
Hydrodynamic systems also use fluids in their system, but they take advantage of the movement and momentum of fluid rather than its pressure necessarily. The motor makes uses of more seals and veins that work in conjunction with the engine turbine. As a result, problems are often related to damaged seals and clogs in the pathway for fluids meant to allow them to turn the turbine.
4. Common Electric Transmission Problems
An electric transmission uses electric generators to convert electrical energy into usable torque for the engine. These systems are common in large trucks, bulldozers, and other types of heavy-duty vehicles. The electrical system is sometimes coupled with turbines, resulting in a turbo-electric drive. The electrical component is the system greatest weakness. A lack of power or performance is typically the result of shorts or failing electrical components.
If you've got broken industrial machine parts, we've got the experts to fix it!
We're a leader in clutch and transmission parts for industrial machinery, and with a team of expert mechanics that are available 24/7 and can meet you where you're at, we're able to fix any problems you might be experiencing quickly and efficiently.