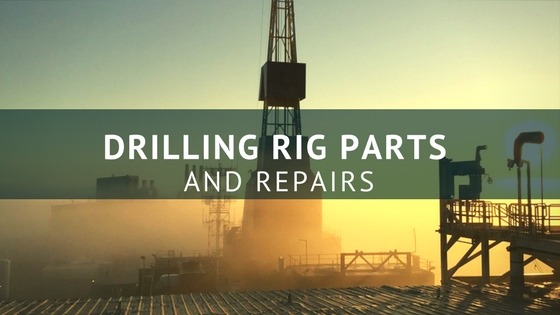 Drilling rigs provide an invaluable service for companies that need to dig deep, with the convergence of drilling rig components and parts working together to do their job.
However, the reality of this situation is that the rigorous work being performed will likely hasten the onset of drilling rig repairs at some point.

The evolution of this particular piece of equipment has taken place over thousands of years.
These variations have ranged from the earliest and most primitive representations all the way to state-of-the-art examples that require drilling rig parts that can perform in all sorts of different weather conditions.
Looking at the Big Picture
When different brands and the varied uses of the rigs are factored in during any search for drilling rig components or parts, the focus needs to be on businesses that have the inventory to handle such requests.
It also needs to zero in on finding the right company that has the background to undertake any drilling rig repairs that are needed.
Other key aspects to consider are the different power systems involved and the consideration of onshore and offshore options.
Those systems, such as hoist and circulation for rotary drilling rigs, allow for the components and parts to remain viable until the inevitable repair or replacement is necessary.
The drilling rig parts can almost be seen as pieces of a large puzzle, primarily because their absence is so glaring.
Without integral items like an auger or hydraulic hose, the rig remains silent and puts the financial well-being of the company handling a job in an uncomfortable and unenviable position.
Drilling Rig Parts Repair – A Helping Hand
K & L Clutch & Transmission has been dealing with such concerns for more than three decades and knows the challenges faced by companies in this particular arena.
The scope of those firms that use drilling rigs is wider than many people might think. That's why K & L's experienced staff is available around the clock to immediately address repairs or the need for any particular drilling rig parts.
An Array of Considerations
Components like top drives have made life easier for many businesses because of the ability to limit the chances of human error causing either problems or worse, injuries.
That means having this item in condition to handle what's thrown its way offers a company a certain peace of mind.
Equally important can be other items such as clutches, transmissions and mud pumps. In the latter case, this will involve one of two options: the duplex or triplex, both of which demand having quality parts like pistons and pump liners in place to handle the job over an extended period.
Of course, things like drill bits can end up being vulnerable to the weather conditions that they're placed under.
Factoring in such pertinent information beforehand helps establish an effective plan that will allow for any replacement of such parts or other repairs to take place and limit any downtime.
Getting the Job Done
Simply having access to drilling rig components and parts might seem to be all that's needed when a choice needs to be made for any purchases of those items.
Yet the individuals that could be performing drilling rig repairs also need to have the ability to do their job right the first time.
A company's frustration in this area stems from the economic impact of such an error, which is why working with K & L Clutch & Transmission helps avoid such a harrowing scenario.
Contact us when you need drilling rig parts and other related concerns.